Salvador Sobral Married French Actress Jenna Thiam| Eurovision Winner, Salvador Sobral Wiki-bio & Net Worth!
The finalist and winner of the Eurovision Song Contest 2017, Salvador Sobral, become successful in winning in love as he ties the knot with his longtime girlfriend, Jenna Thiam. With his songs, he won the hearts of millions of people as well as the love of his life and wedded in a private ceremony in Lisbon, Portugal.
Salvador, a Portuguese singer, became famous for representing Portugal and winning the Eurovision Song Contest in 2017. Not only did he win it but Salvador set the record for winning the contest by securing 758 points which is the highest achieved in the history of the competition. Explore more of Salvador Sobral wiki, bio, girlfriend, wife, net worth, and height.
Salvador Sobral Married His Longtime Girlfriend, Jenna Thiam.
Salvador was in a long term relationship with his girlfriend, Jenna Thiam. Well, Salvador Sobral wife is a French actress, popular for her role in the series, The Returned. The couple tied the knot in a private ceremony in Lisbon on 29th December 2018.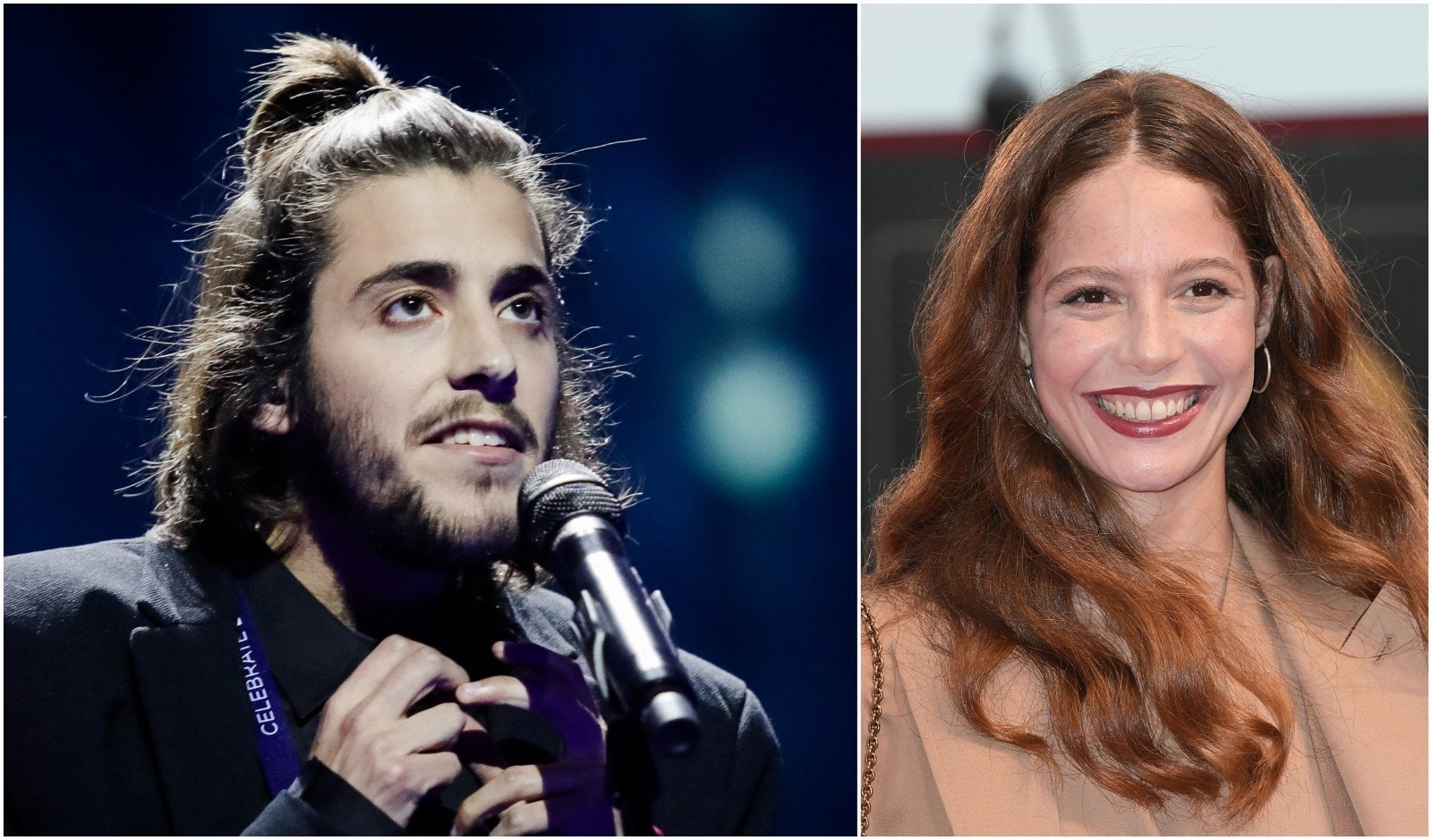 Source: Navva
As per Impala, the couple wedded at Praça do Braço de Prata, Lisbon and the ceremony got celebrated in both French and Portuguese. As he is a secretive person, he did not post anything on his Instagram related to his marriage and his wife.
Salvador Sobral Net Worth
Salvador had interests in music as a kid and participated in several singing competitions in his schooling days. At the age of 10, he was in the TV Show named, Bravo Bravíssimo. In the year 2009, he participated in the Portuguese version of Idols in Ídolos. He reached the top 10 of the competition finishing in seventh.
From 2011 to 2014, Salvador quit his studies of Psychology. He focussed on his singing career and attended, Taller de Músics to learn music. During that period, he sang songs in private events and parties of wealthy people.
Caption: Salvador Sobral, a Portuguese Singer
On 2nd August 2016, Salvador released his first album titled, Excuse Me as well as his first single on the same day. His debut album was a success as it charted on No.10 at the Portuguese Album chart. Later, he released his second album, "Nem Eu" on 27th October 2016.
In 2017, Salvador confirmed the news of participating in the Eurovision Song Contest with the song titled, "Amar Pelos Dios". Eventually, he won the contest which helped him earn international recognition.
With all these works as a singer, Salvador takes home a hefty amount of income home. However, no revelations are available regarding Salvador Sobral net worth.
 Salvador Sobral Wiki-bio
Salvador was born in Lisbon, Portugal on 28th December 1989 as Salvador Vilar Braamcamp Sobral. He is of Portuguese nationality, and his birth sign is Capricorn. Salvador is the son of parents, Luísa Maria Cabral Posser Vilar and Salvador Luís Cabral Braamcamp Sobral.
He attended Instituto Superior de Psicologia Aplicada to study Psychology Salvador. Sobral stands tall with decent height and has brown curly hair with brown eyes.