BGT 2019: Akshat Singh's Act Earns The Golden Buzzer From Ant and Dec| Complete Wiki-bio & Family Details
The chubby kid who had agile grooves on India's Got Talent turned into the teen of same agility on Britain's Got Talent. Akshat Singh proved that nothing is impossible and even fat people can dance. The Indian dancer inspired the generations, living under the hook of weight issues. And Ant and Dec couldn't stop themselves from pressing the golden buzzer for Akshat Singh. His act is the third one to go straight into live shows after a jaw-dropping performance on the blend of Bollywood and Hollywood dropbox.
Akshat Singh bio entails his love for dancing since the age of three. Let's shove more out of Akshat Singh bio, wiki, parents, age and journey on BGT 2019.
Akshat Singh on BGT 2019
When he appeared on India's Got Talent, his dancing moves were borrowed by CNN and various outlets. He plunged into stardom overnight. Then he went into Ellen's show, being the pioneer non-celebrity Indian face on the TV segment. He ruled the overall entertainment industry on cops' uniform and his favorite Bollywood star Salman Khan's songs.
Caption: Akshat Singh on BGT 2019, which earned him the Golden Buzzer
The April of 2019, again witnessed Akshat Singh agility and stamina on Britain's Got Talent. Before the performance, he relieved his two mottos on the stage: to make everyone happy and nothing is impossible. He did both amidst his stupendous dancing skills. Akshat pulled off clean-cut splits and break-off moves, which amused the audiences and judges as well.
He initiated with 'Shree Ganesh' moves and blended with Nicki Minaj's Starships. Consequently, the audiences and judges at the London Pallidum embraced Akshat with a standing ovation. On top of that, he earned golden buzzer from Ant and Dec. Who could fail to remember Akshat Singh's sharp split at the end of the performance and his enigma of 'even fat people can dance'?
Akshat Singh parents
His mother had happy tears as he attained Golden Buzzer from Ant and Dec on Britain's Got Talent. Well, Akshat Singh parents are supportive of their son since he danced to the Hindi music in his home in Calcutta, India, wearing nothing except underwear. They even came along the audition round of Britain's Got Talent and witnessed Akshat gracing the golden buzzer.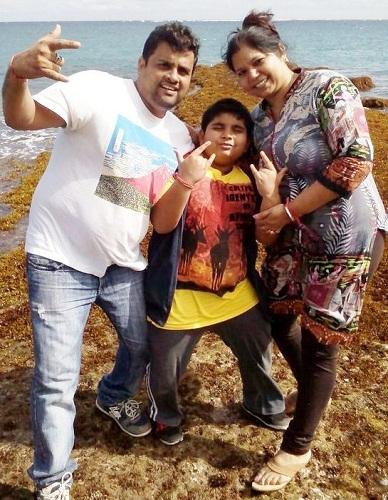 Source: picswe.com
Akshat Singh parents, Abhay Singh and Uma Singh are also the heavy admirers of his provocative moves, facial expressions, and flexibility. His father praised Akshat's moves in the international platform 'The Ellen DeGeneres Show':
He did some complex cartwheels, headstands, and his favorite 'Salman Khan Style dancing' but he was not able to perform on the song from the viral video because they (the Ellen producers) didn't get permission to use it."
Akshat Singh Bio-wiki
An avid fan of Salman Khan, Akshat Singh was born on 21st April 2005 in West Bengal India. Now, Akshat Singh age is 14 years old. When Akshat Singh was three, he mimicked his idol, Salman Khan.
Then, Akshat practiced dancing moves from Bollywood actors at homes and studios, most of the days. Additionally, he is foodie with an obsession over chicken delicacies. Once he refereed his belly as a family pack of chicken and peas.
The presence in Dance Bangla Dance and Jhalak Dikhla Ja also elevated the prominence of his fame dom. When he couldn't make it to the finals of Jhalak Dikhla Ja, he returned back to his studies. Now, Akshat's stamina and intricate movements has revived within BGT 2019.